Meet Our Donors
Ron and Leigh Little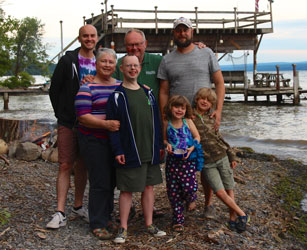 Ron and Leigh Little are HCS Legacy Society members and Leadership Circle donors. Ron met HCS founder Bob Pieters when they served on the same board at Mary Cariola Children's Center. "Bob was in the process of forming HCS," Ron recalls. "I worked with him to build a residential home on my and Leigh's church campus." Ron was invited to be on the HCS board and was later hired as the senior vice president of finance. After 21 years of service, Ron retired as CFO of HCS.
Ron and Leigh's son Tim is supported by HCS. "He started receiving services in the form of respite, therapeudic riding and service coordination as a child," Ron says. He and Leigh still remember the joy on Tim's face when they shared with him that he was able to move into his own home.
"It gives us such peace of mind knowing that our son is being well cared for," Leigh says. "It is a sense of peace and confidence that will extend for his lifetime." The Littles are aware of the need of support, beyond governmental dollars – as parents it was not only a joy but an obligation to help maintain the quality of HCS.
"HCS is an extremely well-run mission," Ron says, "and you can feel confident your gift will be used to enhace the lives of the people they serve. We want to publically demonstrate our commitment, which may motivate others to support HCS as well."
---
Samuel and Mary Sayer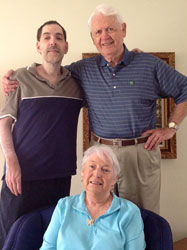 Samuel and Mary Sayer were introduced to Heritage Christian Services more than 30 years ago – shortly after the agency began – when their son David's social worker suggested that the high schooler move into a group home. David has received services from Heritage Christian ever since, and in gratitude, Sam and Mary decided some time ago to make HCS the beneficiary of their IRA. Now that gift will be in memory of Mary, who sadly passed away in 2016 after the couple had been married for almost 62 years.
"We have loved HCS because we have seen the care our son has always received," Sam says. "We want to invest in the ministry and mission of the agency not only to secure David's future, but to secure the future of all those who choose the services of HCS."
Mary, a graduate of Rowan University, was a teacher in California, New Jersey and New York. Sam was in the Navy for four years and then earned an engineering degree from Rochester Institute of Technology; we worked for Xerox for 30 years. They have two sons, David and Mark.
Over the years, Sam and Mary became very involved with Heritage Christian. Mary was a part of the Mothers' Club and Sam served on the foundation board.
---
Eunice Hanson and Carol Craig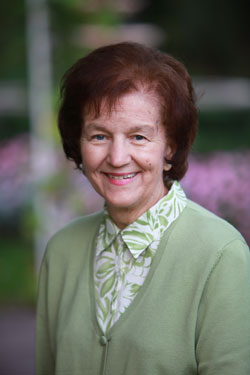 Both Eunice Hanson and Carol Craig were mothers of daughters served by Heritage Christian Services. Both women recognized the importance of the dedicated nurses and caregivers who care for their girls. And both women made gifts to HCS to help ensure that excellence in care will continue for generations to come.
As a retired nurse, Legacy Society member, honorary HCS board member, longtime volunteer, and parent of an adult child with developmental disabilities, Eunice was thankful for the excellent care provided for her daughter Vicki since 1995. Reflecting on her experiences, Eunice said, "What a blessing HCS has been." In gratitude for Vicki's care and the care of so many others, Eunice made a gift that established an award in honor of her late husband Paul – who also served for many years as an HCS board member. With the money that was left to Heritage Christian from Eunice's estate, her family asked that an award be established to honor Eunice and be given each year to a nurse who has demonstrated compassion, dedication, hard work and Christian values.
After Carol Craig's husband died, she knew it was time to make plans for the future. "That's why I'm setting up a $5,000 annuity with HCS," said Carol, whose daughter has lived in the HCS home on Grand Island since 2002. "I have the comfort of knowing my daughter will always be provided for, and I get yearly payments that are guaranteed by Heritage Christian. The annuity also helped with my taxes." Carol knew her gift would be invested and used wisely. "I don't have a lot to give the agency," she said, "but I need to give what I can. We all do." Carol established another $5,000 annuity before her death. Both annuities will help HCS maintain the ability to provide competitive wages for direct support staff, which is critical in recruiting and retaining the best employees.
Both mothers appreciated the exceptional programs and services that HCS provides to their daughters, and both were proud to contribute to the HCS Foundation – to support the highest standard of Christian care for the spiritual, physical and mental care of the whole person.
---
Marian and Chuck Turner
As they approach their 50th wedding anniversary, Chuck and Marian Turner are grateful for their many blessings – including two children, nine grandchildren, fulfilling careers, and their many opportunities to serve their community, both professionally and as volunteers. Chuck first became familiar with Heritage Christian Services through his involvement with Brighton Rotary, but it was Marian's job as the director of development and public relations for the Special Olympics that sealed the relationship.
In 1992, Marian noticed that HCS had the largest number of athletes competing in New York's Genesee region games. She eventually served eight years on the foundation board, volunteered on multiple committees, and - along with Chuck – built relationships with the people served by HCS. "Heritage motivates me every day," says Marian, "because of the outstanding staff and people who always go above and beyond what's expected because they care about the people they serve."
The Turners became Legacy Society members by arranging a gift to Heritage Christian through their will "to support the needs of people with disabilities and any future advancements that improve and enrich their quality of life," says Marian. "Get involved with the people that Heritage Christian serves and you will be 'hooked for life' because the people you meet will inspire you as they accomplish their goals and dreams."
"My involvement with Heritage Christian has made me appreciate the capabilities of people with disabilities and how each person is valued," adds Chuck. It is a highly respected and very effective organization and is worthy of your support. The people there are skilled at thanking people and acknowledging the value of each individual."
"Heritage Christian provides the highest quality of care for people with disabilities," Marian says. "They are always on the forefront to study new opportunities to grow and make a difference in the lives of people they serve, with an emphasis on Christian experiences."